The world famous Daiquiri Deck
We have four locations in Florida: Siesta Key Village, South Siesta Key, St. Armands, and Venice.
The Daiquiri Deck is the perfect place to share a meal with the whole family or kick back and relax with friends.
Enjoy Live Music, Tasty Treats, and the best Frozen Daiquiris anywhere!
Our casual atmosphere and unparalleled selection of taste-tempting Frozen Daiquiris will bring you in, but our Regular and Raw Bar menu, which includes mouthwatering selections for seafood lovers and land lovers alike served by the friendliest wait staff around, will keep you coming back for more.
The Daiquiri Deck is open for full service from 11:00 am until 12:00 am, 7 days a week.
Don't miss our legendary happy hour from 3:00 pm until 7:00 pm daily at all locations!
The Daiquiri Deck Siesta Key is even more fun after dark!
There's never a dull moment with great Live Music featuring a variety of local artists, Sporting Events, Competitions like Beer Pong and Corn Hole, and lots of Special Events and Drink Specials.
You're never too far from a Daiquiri Deck when the craving hits you! Hit The Deck!
The Daiquiri Deck is proud to introduce Konrad Zabcyk.
Konrad is a local junior tennis prodigy here in Sarasota who first picked up a racquet at 9 years old; a relatively "late" start by tennis standards. Through hard work and with the help of his coach he has continued to climb the rankings ladder to where he now accepts "direct ins" to every major and national tournament he enters, including the renowned Eddie Herr tournament at IMG in Bradenton every November.
With his ascent in the rankings, his costs to train, travel, buy equipment, and pay tournament fees while continuing with professional coaching has also risen sharply. It's estimated that a high-ranking junior can and will spend 100's of thousands of dollars during their junior careers. The Daiquiri Deck is proud and excited to be a continued supporter of Konrad's further development.
As Konrad continues his ascent in the junior tennis world, "change" and "challenge" are the new buzz words. No longer a tiny little boy, his stature both physically and mentally are growing. Now 13, playing boys in many cases much older, has afforded Konrad the opportunity to challenge himself. In his latest two tournaments, he has made the finals at Longwood Run and the semi-finals at Inspiration Academy in Bradenton. In the upcoming weeks he will be headed to Delray Beach and Miami for two big tournaments that only the best boys in all of Florida are granted acceptance to based on ranking.
Accordingly, Konrad's practices have become more demanding both physically and technically. His one handed backhand is developing nicely while his forehand and serve continue to be weapons. He's also one of the few juniors you will see throw in the occasional serve and volley play. It's an exciting time in his junior career and we welcome everyone to come out to support and cheer him on. And many thanks from Konrad to his favorite restaurant, the Daiquiri Deck.
As always, the management and everyone here at the Daiquiri Deck thanks you for your patronage and support. And GO Konrad!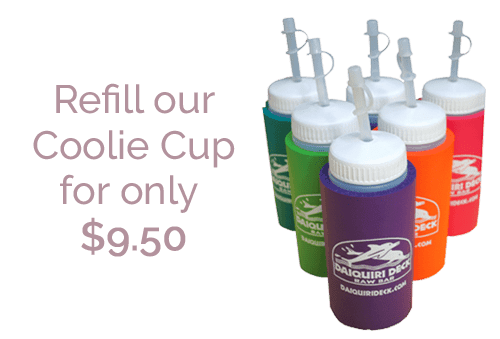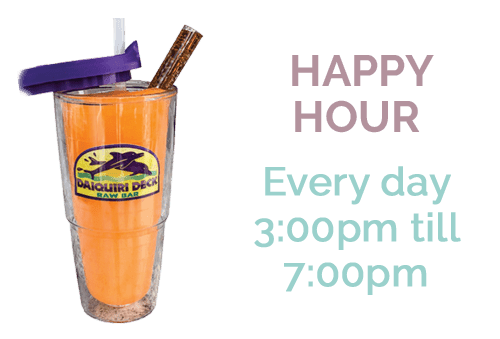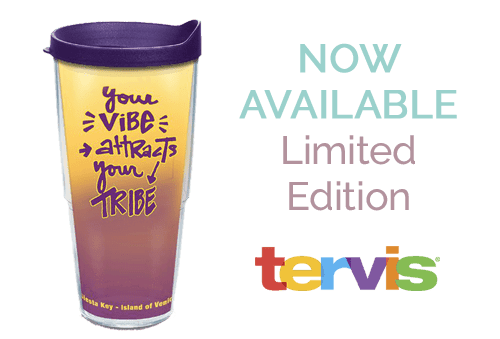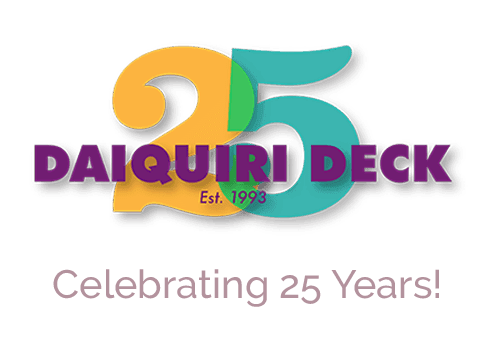 Check Us Out On Instagram!