Fund Raiser for Victoria - A Night Out at the Daiquiri Deck
(South Siesta Key)
EVENT - Wednesday August 12th - Starts at 5:00 pm
Tickets can be purchased online
Tickets are $25
50/50 Raffle
Live DJ - Steve Rice
2 Drinks
Silent Auction
MC - Chris Wagner
How You Can Help:
Purchase a $25 Event Ticket | Purchase 50/50 Raffle Tickets | Participate in the Silent Auction
Go To the Webpage:
TatumSRQ.com/Victoria
In February of this year, Victoria was diagnosed with Stage 2 Hodgkin Lymphoma. Although Hodgkin Lymphoma is rarer than Non-Hodgkin Lymphoma, (only about 8,300 people are diagnosed each year), more than 90% of those treated survive for 5 years or more after diagnosis. Even if this type of Lymphoma comes back, it can often be treated successfully again. Read More About Victoria at
TatumSRQ.com/Victoria

The world famous Daiquiri Deck
We have Five locations in Florida: Anna Maria Island, Siesta Key Village, South Siesta Key, St. Armands, and Venice.
The Daiquiri Deck is the perfect place to share a meal with the whole family or kick back and relax with friends.
Enjoy Live Music, Tasty Treats, and the best Frozen Daiquiris anywhere!
Our casual atmosphere and unparalleled selection of taste-tempting Frozen Daiquiris will bring you in, but our Regular and Raw Bar menu, which includes mouthwatering selections for seafood lovers and land lovers alike served by the friendliest wait staff around, will keep you coming back for more.
The Daiquiri Deck is open for full service from 11:00 am until 12:00 am, 7 days a week.
Don't miss our legendary happy hour from 3:00 pm until 7:00 pm daily at all locations!
The Daiquiri Deck Siesta Key is even more fun after dark!
There's never a dull moment with great Live Music featuring a variety of local artists, Sporting Events, Competitions like Beer Pong and Corn Hole, and lots of Special Events and Drink Specials.
You're never too far from a Daiquiri Deck when the craving hits you! Hit The Deck!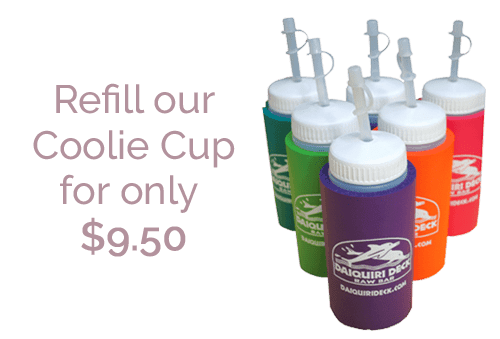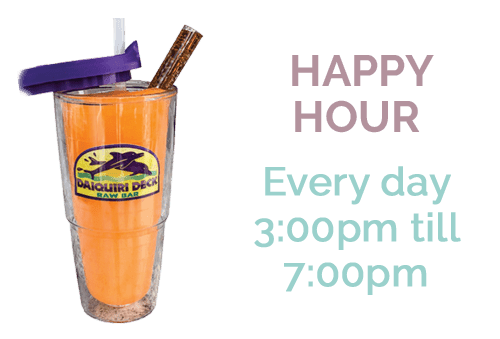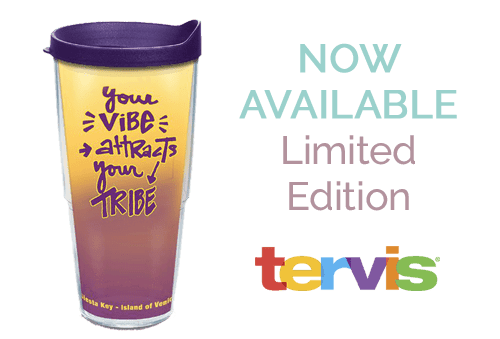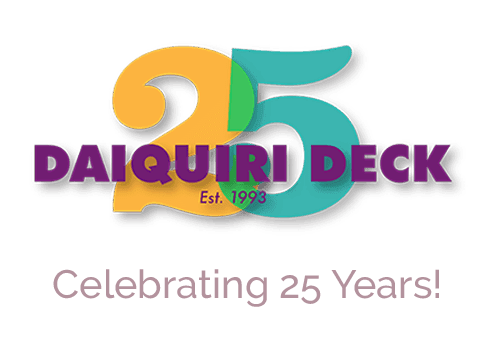 Check Us Out On Instagram!